What is Authentication User Agency?
The Unique Identification Authority of India (UIDAI) has been created, with the mandate of providing a unique identity (Aadhaar) number to all residents of India and also defining usages and applicability of Aadhaar for delivery of various services. Towards Aadhaar-enabling delivery of various services, UIDAI proposes to provide online authentication using demographic and biometric data.
What is Authentication ?
Aadhaar authentication is the process wherein Aadhaar number, along with other attributes (demographic/biometrics/OTP) is submitted to UIDAI's Central Identities Data Repository (CIDR) for verification; the CIDR verifies whether the data submitted matches the data available in CIDR and responds with a "yes/no". No personal identity information is returned as part of the response.
The purpose of Authentication is to enable residents to prove their identity and for service providers to confirm that the residents are 'who they say they are' in order to supply services and give access to benefits.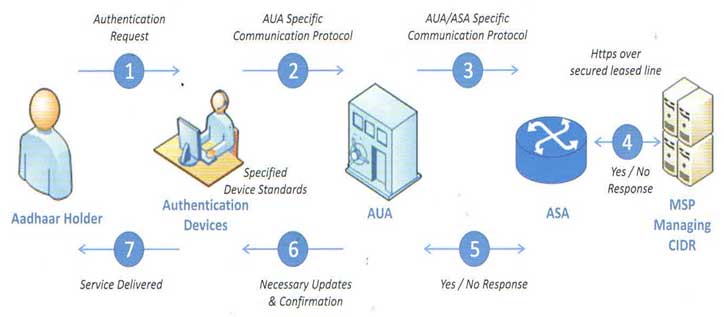 What is KUA?
KYC User Agency (KUA) means Authentication User Agency that is eligible for the e-KYC service. KUA uses Aadhaar e-KYC to enable its services and connect to the CIDR through an e-KYC Service Agency (KSA). e-KYC means the transfer of demographic data (such as Name, Address, Date of Birth, Gender, Mobile number, Email address, etc.) and photograph collected by UIDAI in the form of a digitally signed XML document to an Authentication User Agency, through an Authentication Service Agency, based on resident authorization received by UIDAI in the form of successful biometric or OTP-based Aadhaar authentication. KUA enters into a formal agreement with UIDAI in order to access Aadhaar authentication e-KYC services.
e-KYC Services:
UIDAI offers the e-KYC service, which enables a resident having an Aadhaar number to share their demographic information and photograph with a UIDAI partner organization in an online, secure, auditable manner with the residents consent. The consent of the resident can be given by a Biometric authentication or a One Time Password (OTP) authentication. The Aadhaar holders demographic information i.e. Name, Address, Date of Birth, Gender, Phone & Email (where available) & Photograph which is currently available with the resident is shared via the e-KYC service.
Use of e-KYC Service:
The e-KYC service is envisaged as a public benefit service. Any organization, authorized and approved by UIDAI to use this service can deploy the e-KYC service to serve its business interest. UIDAI envisages, initially organizations such as Banks, Telecom, Financial Services etc. who have a regulatory compliance to perform a KYC function will be the front runners in leveraging this service.
Functionalities of AUA/KUA
eKYC

Biometric Authentication

Demographic Authentication

OTP based authentication

Multiple Biometric Device Support

Supports multiple Iris & Fingerprint Biometrics

Android APIs for eKYC and Authentication
Purpose of AUA/KUA
1

Authenticaton

<<< The purpose of Authentication is to enable residents to prove their identity in order to procure services and benefits Potential

<<< All cases include authentication for examinations, application submission, User Authetcation, Attendance authetication, benefit transfer of government schemes etc.

2

e-KYC

<<< Know your customer (KYC) is the process of a business verifying the identity of its clients.

<<< It is mandatory in India for businesses such as banks, stock brokers, telecom operators to perform KYC of all customers

3

Digital signature

<<< An Aadhaar based digital signature is a one time code generated to establish integrity or attestation of a document

<<< Such digital certificates find wide applications in areas such as company registration, certificate attestation and exports
Why Awzpact as AUA/KUA Development agency?
Ensure compliance of authentication related operations (processes, technology, security, etc.) to UIDAI's standards and specifications.
Log and maintain details of all authentication transactions.
Get its operations and systems related to Aadhaar Authentication audited as per UIDAI's specifications.
Perform basic checks on the authentication input and forward it to CIDR
Transmit the result of the authentication transaction received from CIDR to the AUA that has placed the request
Inform UIDAI of the engagement/ disengagement of AUAs that it serves
Inform UIDAI of any misuse of Aadhaar data, authentication services, or any compromise of Aadhaar related data or systems.