Project Description
"SAMPARK" is designed for access various services and to lodge grievance. The citizen can use any communication mode (Voice-Landline-Fix line/Wireless, CDMA/GSM based mobile phone) etc. To provide citizen help desk for providing guidelines/information to citizen of various services offered by MPMKVVCL. Through the SAMPARK we can register a different type of complaints –
a) Voltage Fluctuation , Power Supply, Meter Burnt/Defective/Burnt/Jam,Phase Missing
b) SD Adjustment /Arrears , Bill Assessment/Average, Bill not received
c) Accident, Report Of Electricity Theft,Unethical Practices,Loose Wire
To address the power supply related complaints on a proactive basis and provide effective, assured and timely services to the customers of MP state electricity boards have set up an Electricity Call Centers. These call centers work round the clock to receive customer complaints through several channels such as Voice-Landline-Fix line/Wireless, CDMA/GSM based mobile phone. The telephone number 0755-2551222, 1800-233-1912 is specifically allotted to Electricity Call Centers for handling power supply related complaints.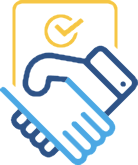 "GET SERVED ON FINGERTIPS ONDOOR"
Impact
More than 0,00,00

Complaints Registered

(from Inception)

More than 0,00,000

Complaints Redressed

(from Inception)

Nearly 00%

complaints successfully resolved in through SAMPARK

Average ____________ ( Time Taken )

to redress the complaint registered along with consumer feedback.
Functionality
User Access Management

Empowers you to choose which members of the organization have access to view/edit particular documents, modules, or even locations by managing user specific permission through UAM.

Assets Management

Empowers you to managed and map the assets of the organisation ex: In power sector assets like Substation, Feeder, DTR , Pole and Meter, Consumer Management and Mapping.

Complaint Type Management

The mentioned module empowers one to manage multiple type of complaints that are to be catered.

Manpower Management

Empowers you to managed the manpower /resources of the call centre, details along with attendance management of the manpower hired.

Complaint Management

The mentioned module facilities registration of multiple type of complaint registered via multiple modes or medium like On call to CC, Mobile App & Web

Service Provider Management

An add-on module for service provider management which includes Service Provider's profile management , work orders, manpower management , invoice history etc.

FOC / TRG / Redressal Team Management

The mentioned module facilities to manage the FOC / TRG / Redressal Management and Assets.

Shutdown Management

An add-on functionality for managing planned / unplanned / breakdown & trip specially for power sector.

Easily Integrable with SAN / CISCO Applications
Advantages
| | | | |
| --- | --- | --- | --- |
| | | | |
| Facility of registering complaints via multiple modes / mediums on the go. | | | Features of handling multiple types of complaint through single interface |
| | | | |
| Features of Tracking Status and follow Ups etc. via single interface | | | Real Time forwarding of Complaints to execution Team/Member/FOC for resolution |
| | | | |
| In build customisable escalation of complaint at various level in defined time limits. | | | Easily Integrable with any of the Third Party Application or SAN / CISCO System |
| | | | |
| Customer Centric Approach | | | Better Compliance Management System |
| | | | |
| GPS Enabled Tracking System | | | Single Window Complaint Management System |
| | | | |
| Timely Redressal of Enquiries & Complaints | | | Centralized Database Enhancing Service fulfilment |
Our Valuable Clients

M.P Madhya Kshetra Vidhyut Vitaran Company Limited,
Bhopal, Madhya Pradesh